A clothing manufacturer triples its production capacity with autonomous mobile robots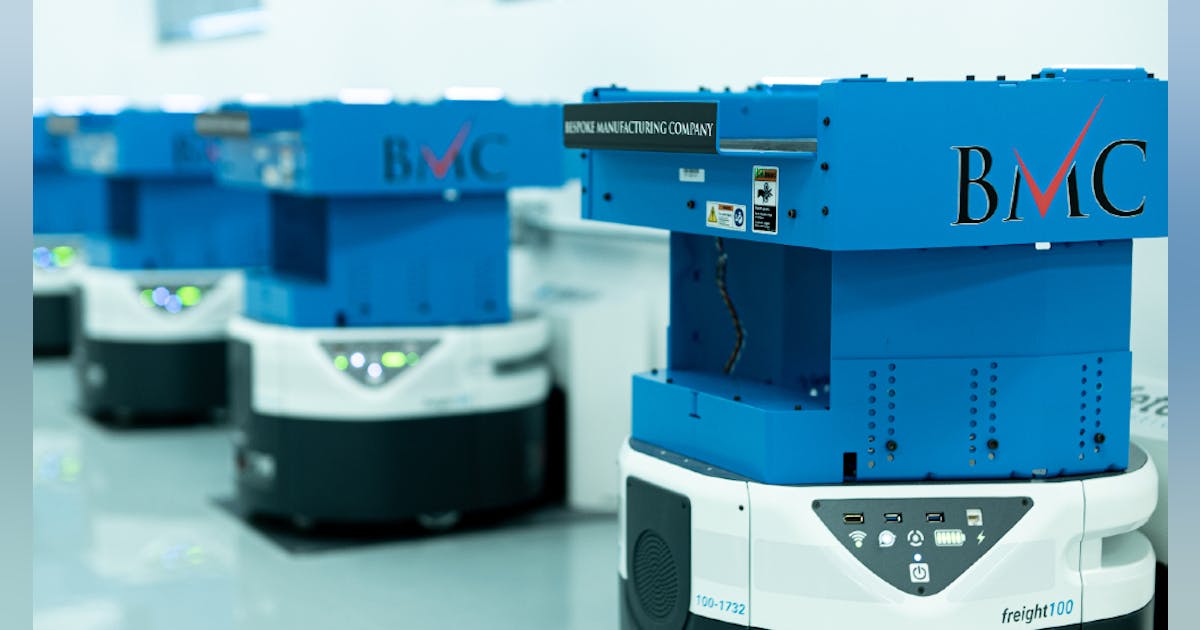 If you don't bolt conveyor belts to the ground and instead leave autonomous mobile robots (AMR) manage the transport of materials, you may have a lot more space in your factory to manufacture the product.
So discovered Custom manufacturing company (BMC), an on-demand manufacturer of apparel and home goods.
BMC President and CEO J. Kirby Best calls the Phoenix, Arizona plant a "unique mass customization facility." BMC's business model minimizes human contact: designers create outfits on the iCreate.Fashion website which then aggregates the design files into a format readable by BMC's automated garment press and digital cutting equipment.
BMC employees take pressed and cut garment components, typically seven pieces for a dress, for example, and place them in a barcoded bag. An employee places zippers, buttons, etc. into the bag and load it onto an AMR.
The AMRs then deliver totes between as many sewing stations as needed and deliver the finished products to the inspection and packing stations. While barcode scanners register the bins at each location, the factory's M3 computer system tracks the positions of each garment in the factory. The loop completely removes humans.
"If I have one big bugaboo about working in factories, it's trying to let people think and let the computers handle everything else that doesn't require real thought," says Best. "I need humans to think about things that robots can't solve."
Best also cites an expression in the clothing industry.
"If you touch it, you lost money."
Realize when technology gets old
The factory of Best's former company, on-demand apparel maker OnPoint Manufacturing, featured extensive automation and made extensive use of conveyor belts. "It sounds ridiculous, but 'there's a real art to using conveyor belts and getting them to work properly,'" Best says.
The factory's computer systems and PLCs were not up to the task of tracking all the bins as they moved through the conveyor system, resulting in garments getting stuck in transit and delaying production . For example, bins are routed to sewing stations from a 750-foot conveyor loop, like a car coming out of an exit on a roundabout.
"Once a tote lands on this loop, it has a chance of being picked up and sent to a sewing machine. If there's a misread…it's still going to be about 750 feet," Best says. "If this sewing station is full, it will be another 750 feet. We found out that the ferries run for three days on this loop.
OnPoint Manufacturing's 1,500 feet of conveyor belts also took up a huge amount of floor space. They were bolted down, making it onerous to fine-tune the floor layout. Best decided that at his next factory, he wasn't going to bog himself down with conveyors and try robots instead.
Gathering of AMRs
The ideas Best developed for OnPoint's second factory instead formed the basis of his plans for the BMC factory. AMRs were in sight from day one.
Best considered three companies to supply the factory's AMRs. Key considerations included the operating space required by different robot models, their safety features, battery life, and ease of fleet expansion in the future. Best ultimately chose Fetch Robotics Inc., part of Zebra Technologies [read more here about Zebra executive Melonee Wise's groundbreaking works on robotic behavior].
As a pristine facility, the factory floor plan could account for AMR traffic from the start, and Best believed the floor plan left enough room for the AMRs to work. However, an optimal path is not just about making room for robots.
"We weren't sophisticated enough to know the right questions to ask," says Best. "[Fetch] warned us from the start that we should consider a single path rather than two-way streets. And I, in my stubborn method, said, "No, that doesn't make sense to me." If they work the way you tell me they work, then a two-way street should work just fine.
Best, who skied on the Canadian national ski teams in the early 1980s, calls the result of deploying AMRs on two-way streets a "Canadian traffic jam."
AMRs have anti-collision safety systems and stop when objects, including other AMRs on the other side of a two-way street, cross their path. Once in safety mode, an AMR waits for its trajectory to clear before resuming its route. The traffic jams resulted from AMRs, like Canadians who are overly polite at roundabouts (according to Best), constantly relying on each other to move first and clear the traffic jam.
The ongoing construction has also literally created obstacles to setting up an AMR pathway.
"It became a real challenge for the guys at Fetch because they had a good clear path and then they would come in the next morning and a haul truck had [delivered] five new machines [that were] now in their clear lane," says Best. He adds that in the future he would not bring in his AMR team until he had completed 95% of the construction and installation.
The M3 system tracks AMR tracking and monitors routes for efficiency. BMC employees can make simple adjustments. More complicated fixes require Fetch experts. Best admits he could have avoided some of those pathing issues early on.
"There is a bit of a chicken and an egg [situation] but you should reduce it [during floor planning] and then when you start going into 'This is how I want to pitch it', you have to have your AMR team with you because you're hand in hand at this point," Best says. "Today I would bring them in a lot earlier and incorporate them a lot more into this planning process."
Best has never had to worry about employee buy-in, as 85% of his employees run sewing stations and he doesn't see any machines on the horizon that could viably eliminate the jobs of those employees, in particularly in the on-demand garment manufacturing industry. . Highly regulated AMRs also do not present any security concerns.
More space equals more product
With the factory in full swing and 120 sewing stations in use, the facility's M3 computer system, every seven seconds, calculates where to direct each AMR based on the type of seam an operator is sewing, materials loaded into his machine and their relative skill among other variables.
Best says 10 of the plant's AMRs are typically in motion simultaneously, and the M3 system can adjust the intended location of any AMR at any time, depending on changing variables.
"We can redirect a bin in the middle of the process to help with factory load leveling," says Best.
Thanks to the replacement of the conveyor system with the AMR fleet, the factory enjoys a 33% improvement in space efficiency and has much more space for sewing equipment. According to Best, this tripled the production capacity of its previous plant at OnPoint Manufacturing.
"I'm confident that today I could probably get another 30% increase in the next plant we build," Best says.