Chinese textile companies lose to rivals attending offline events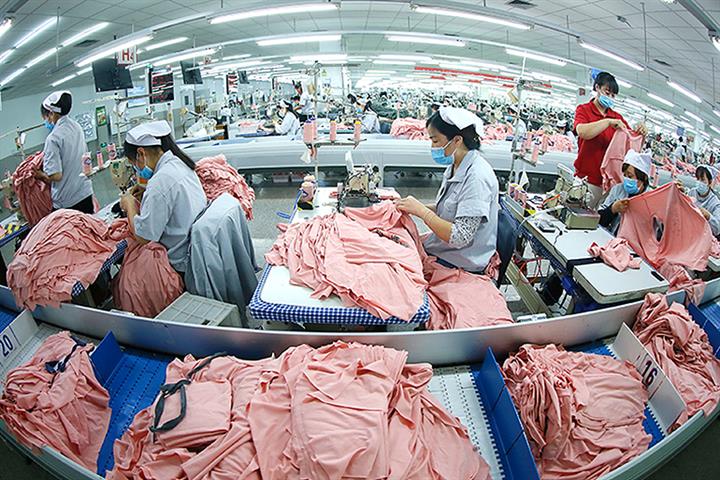 (Yicai Global) July 7 — Chinese textile makers are losing orders to rivals able to attend overseas trade shows in person, according to an industry group.
According to the findings of a recent survey by the China Chamber of Commerce for Import and Export of Textiles (CCCT), 85% of Chinese apparel producers experienced a significant loss of orders. More than 90% said pending orders fell, while almost half said orders fell from a year earlier.
Since the second quarter of this year, in-person exhibitions in North America and Europe have restarted, and the Association of Southeast Asian Nations, India and Turkey are actively participating, an official said. of the CTCC. This is badly affecting orders with Chinese companies, which are struggling to get new overseas customers and show off their goods offline amid China's Covid-19 restrictions and soaring logistics costs.
In the first half of the year, some $6 billion in textile orders were shifted out of China, mainly to India, Bangladesh, Vietnam, Indonesia and Cambodia, according to the CCCT estimate. In the second half, that could jump to around $10 billion.
The effect is felt locally. Orders this year are at least 40% lower than last year, an official of a small textile company in Wujiang told Yicai Global. Other small and medium enterprises in the city of Jiangsu province have similar problems, the person added.
Garments Import and Export, based in Anhui province, entered an "idle" state almost two or three months earlier than in previous years, manager Meng Zhuo said.
Order exits are just one reason for the market's sluggishness. Weak demand is a bigger problem, according to Hu Kehua, deputy director of social responsibility at China's National Textile and Garment Council. In the first half, domestic consumption of textiles and clothing fell nearly 20 percent, and overseas markets are also shrinking, Hu said.
The overall operating rate of looms in China's Jiangsu and Zhejiang provinces is currently below 50 percent, the lowest in five years, according to industry data.
Political support can ease the pain. Many regional governments have introduced bailout policies and encouraged local businesses to start exploring cross-border e-commerce to expand their reach. Zhejiang, Guangdong, Shandong, Henan and other provinces have provided subsidies to help enterprises participate in overseas offline exhibitions through representatives.
Online exhibitions should be optimized to allow enterprises to secure more foreign trade orders, Vice Commerce Minister Wang Shouwen said at a recent press briefing. Micro enterprises and SMEs are welcome to negotiate with foreign customers and take their products overseas for offline exhibitions. In addition, the Canton Fair should cooperate with cross-border e-commerce platforms to facilitate trade.
Editors: Shi Yi, Emmi Laine, Xiao Yi