Garment workers owed $60 million in 'world's biggest wage theft', says Watchdog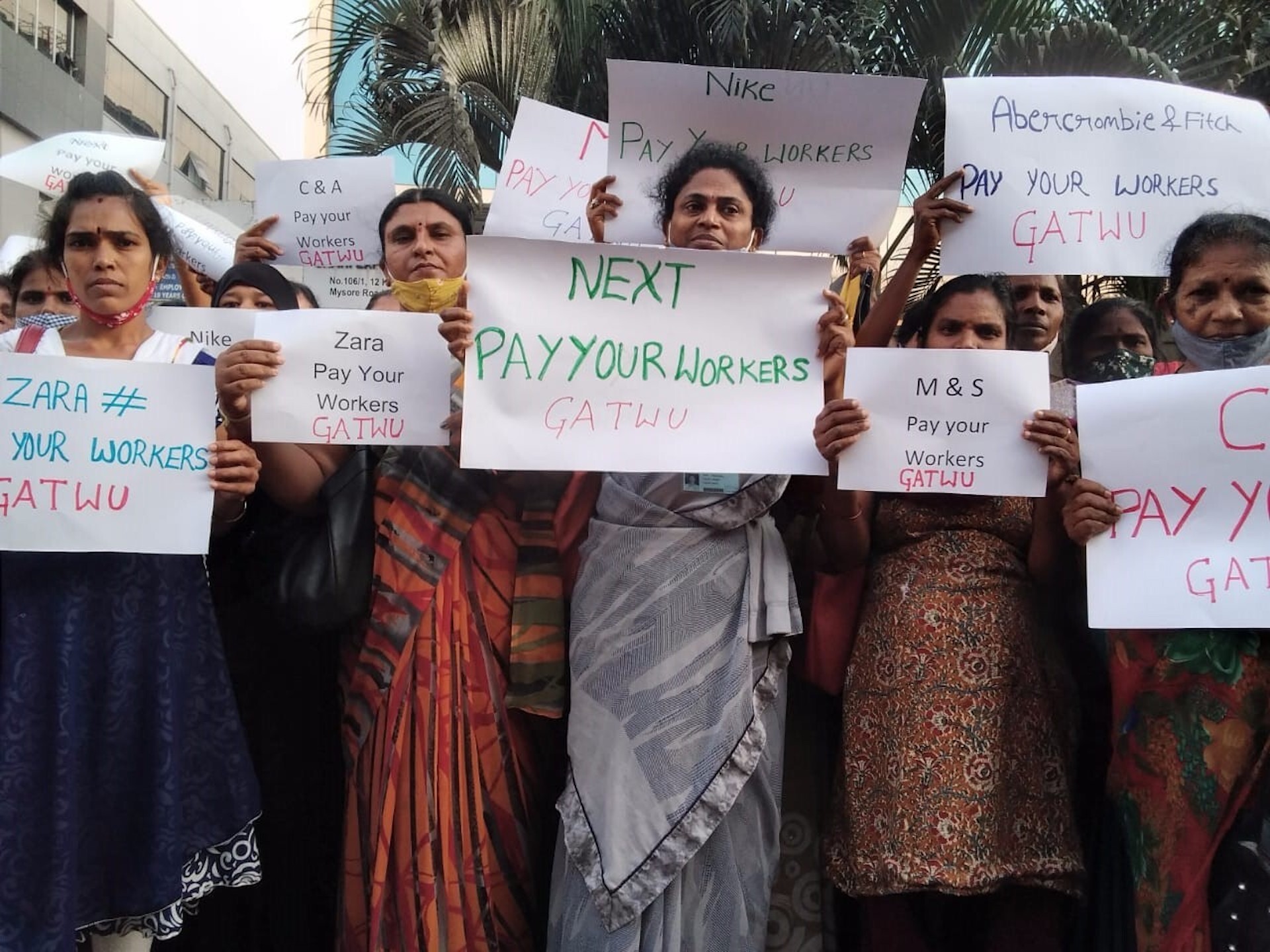 Bengaluru workers hold signs telling companies such as Zara, Abercrombie & Fitch and Nike that they are not getting their full pay. (Image via Garment and Textile Workers Union)
Big U.S. brands like Walmart, Abercrombie & Fitch and Nike source clothes from Indian factories that have refused to pay workers nearly $60 million during the pandemic, a labor rights watchdog says . The crisis has prevented some households from buying basic foodstuffs such as rice, meat and vegetables, or repaying their debts.
A total of more than 1,000 garment factories in the southern Indian state of Karnataka, a center of garment production in the country, failed to give their workers a legal raise in the monthly minimum wage of 417.60 rupees, or about $5.60, according to the Worker Rights Consortium. . The modest wage hike, which took effect in April 2020, would have helped around 400,000 workers, mostly women, cover daily living costs like housing and food. It would have also been used to repay the loans, according to the defenders. Many workers had to go into debt to buy the expensive smartphones their children needed to take online lessons during the shutdowns.
"This is the biggest wage theft we've seen in the global industry in terms of total impact on workers," said Ben Hensler, general counsel and deputy director of policy and research at the Worker Rights Consortium. , which monitors labor rights. globally. "What is extraordinary here is that everything garment factories, with few exceptions, statewide have all been openly violating the minimum wage for two years at this point.
Factories in Karnataka supply clothes to the world's biggest brands, including European fast fashion giants like H&M and Zara, as well as all-American stores like Gap. The garment workers had originally hoped to appeal directly to retailers for help, but their efforts came to naught until they approached advocacy groups, according to Hensler.
In fact, many companies have only publicly reacted to the crisis in the last month or so, and major suppliers have barely begun to commit to refunds in recent days.
"Brands are basically happy to look the other way when the hundreds of thousands of workers who make their products are denied the wages they need for daily survival," Hensler said. "Allowing this to continue unchecked for months – almost two years – until brands are publicly called to account – I think that says a lot about how thin the commitments they claim to have for the welfare of the workers."
Ultimately, Western companies essentially control the fate of dozens of predominantly female garment workers of color. This is what Madhumita Dutta, an assistant professor of geography at Ohio State University, calls the "racialized nature of this power asymmetry" in the apparel industry.
"We give this subconscious mandate for this stuff to happen as a society," Dutta said. "It's unseen. We don't want to know and see it.
Pandemic issues
Wages for workers in Karnataka consist of both a basic daily rate of pay and another rate, called "variable high cost allowance", which reflects the cost of living. Due to the pandemic, garment factories said they simply didn't have the money to pay for the second rate increase, experts said.
Initially, the state government postponed the wage hike, but the Karnataka High Court determined in September 2020 that suppliers must pay their workers the appropriate wage, according to the Worker Rights Consortium. Yet garment factories in Karnataka are still at a standstill, saying the matter is pending in court.
The pandemic has hurt garment workers in other ways, making withheld wages in Karnataka an even bigger slap in the face.
"This is the biggest wage theft we know of in the global industry in terms of the total impact on workers."
From March, garment factories in India completely shut down for a while to control the spread of COVID-19. Many American and European brands have also canceled or delayed orders after seeing sales plummet in the first months of the health emergency.
As a result, some factories have been forced to close or lay off. Many workers around the world are hungry.
Even in times of economic prosperity, fashion brands require their suppliers to keep costs low to remain competitive. According to Dutta, who collaborated on a 2019 garment supply chain study focused on India, garment factories have been driven to operate faster and with lower profit margins in recent years, and workers' wages sometimes end up being reduced. According to the study, for example, 80% of workers said their salary could not cover their living expenses.
"There's a very intense pressure on pricing and time of supply that's creating this intense pressure," Dutta said. "It's created by the companies at the top, going down the supply chain and ultimately impacting the wages and working conditions of factory workers."
In the case of Karnataka, garment workers tried to speak directly to brands about wage theft, according to Manodeep Guha, field director of the Worker Rights Consortium for South Asia. They didn't hear back. The consortium therefore stepped in and began to write to the companies, with the aim of getting the factories to pay the appropriate wages.
"These brands have taken advantage of totally inhumane labor practices," said Meg Lewis, campaigns director at Labor Behind the Label, a UK representative of the global Clean Clothes campaign, which puts pressure on UK clothing brands. "They have a responsibility to ensure that their business practices do not lead to such human rights abuses. Brands are the main sources of profit in any supply chain. »
Reimburse workers
Last month, the Business & Human Rights Resource Centre, a London-based group that tracks business human rights efforts, also began publicly contacting 22 companies that sourced garments from Karnataka and worked with factories. accused of wage theft, posting their responses online. . Companies mostly gave vague responses saying they expected their suppliers to comply with local wage laws and brand codes of conduct, without specifically detailing concrete steps to ensure workers were reimbursed.
Walmart, for example, responded that it would contact manufacturers to "reinforce" expectations. Levi Strauss said he was tracking each supplier individually, with the aim of getting them to issue refunds as soon as possible. Nike promised to "monitor" the situation.
Still, supporters saw no immediate changes. Only five brands said workers in their supply chain had started receiving part of their owed wages, including Abercrombie & Fitch and Inditex, the owner of Zara, according to the Business & Human Rights Resource Centre.
On January 19, the American Apparel & Footwear Association also sent a letter to the Indian Apparel Manufacturers Association pressuring the organization to force its members to pay legal wages to workers in the future. The American association warned that the brands' reputation was at risk, as well as the sector's relationship with Karnataka.
However, factories have only started to take serious action in recent weeks.
On February 1, Shahi Exports, the state's largest supplier with tens of thousands of workers, announced that it would refund wages, along with the appropriate rate in the future. Shahi Exports did not respond to VICE News' request for comment, but denied in a letter to researchers at the Business & Human Rights Resource Center that it had been non-compliant with or opposed to minimum wage laws, and said that the industry was waiting for legal action. to conclude.
Some brands also handled the situation better than others, according to Hensler. Gap and PVH, the owner of Tommy Hilfiger and Calvin Klein, have persisted in recent efforts to get Shahi to reimburse workers about $10 million, Hensler said, with about half of that money going to workers on Feb. 10.
"PVH and Gap deserve a lot of credit for successfully securing Shahi's commitment to pay the appropriate salary and compensate its workers," Hensler said.
Asked for comment, a PVH spokesperson said the company "continues to be in extensive dialogue with all relevant parties, including civil society NGOs, labor rights organizations and our suppliers. in the region to resolve this important issue while it remains under legal review.
A Gap spokesperson said the company has established a schedule with its suppliers "by which we expect full compliance" with legal wages and appropriate back wages.
Abercrombie & Fitch, one of several American brands identified as having its clothes produced in Karnataka, did not immediately respond to VICE News' request for comment, but Recount at the Business and Human Rights Resource Center that his supplier has confirmed that he will start paying the 2020 salary increase in January.
The famous fast-fashion behemoth H&M also said the Business and Human Rights Resource Centre, he had "made it clear to our suppliers in Karnataka that they must pay workers the legal minimum wage, including all arrears", or face "serious consequences". ".
Zara said in a statement to VICE News that "almost all" of the eight factories it works with in Karnataka have paid or pledged to pay workers the 2020 wage increase.
The company did not respond when asked to identify the factories.
Want the best of VICE News straight to your inbox? Register here.