Garment workers struggle to earn a decent wage in India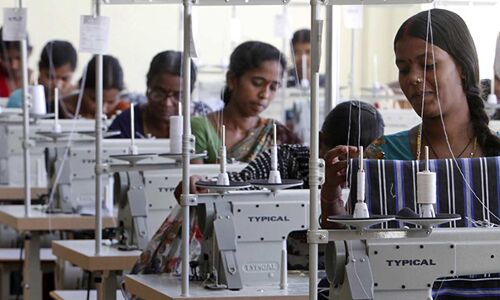 Whatever recent major developments we have noticed in our textile and apparel industry, such as a strong recovery after two years of ambitious export target setting and strong export performance, the high price cotton and now the impact of inflation, our workers have been neglected. And they are more under pressure now due to the work rush. Workers are the backbone of this industry, but I am convinced that the majority of them are not getting what they should be getting.
There is always a debate about minimum wage, fair wage, a living wage, piece work, overtime and other types of payment structures for workers. In many states, the minimum wage is reviewed at regular intervals. In some states, sometimes problems arise with raising the minimum wage and the case is litigate in court for years.
Here is an example, just a few months ago there was an interesting development in favor of workers. After almost two years of refusing to pay the legal minimum wage, some garment manufacturers in Bangalore have finally pledged to pay the legal minimum wage, plus any arrears due, to their workers. And that amount was Rs446 crore. This could happen through the efforts of a local union and an international organization working globally for labor rights. These organizations work to hold apparel manufacturers and their international brands accountable for any underpayments. The case has complications from the proclamation suspending the state's minimum wage increase and the legal process, but ultimately the workers got things in their favor.
In India, some factories even pay their workers a little more than the minimum wage, but the whole situation is different. The majority of the workers only receive the minimum wage which is not enough for their basic needs as they are migrant workers and have the added cost of living in the towns where the factories are located. The situation is even worse when minimum wage is not paid, especially to newcomers who are unskilled and appointed helpers. With overtime, workers can get a reasonable amount, but for them work-life balance is just as important. Factories, brands (especially international), governments, NGOs and trade unions or workers' committees are the four major players in the wage scenario. And for a combined win-win situation, all must work together and have a real spirit.
The factory cannot pay if it does not get a fair amount from its customers, these customers (brands, retailers) are under pressure from market forces but as they claim to do business in an ethical way, they have to pay more and raise the price of their products. There is nothing wrong if they present to their customers in such a way that their clothes are a bit expensive because some money goes to the workers. Conscious customers won't mind paying a little extra for this and as tracing technology is readily available it will be a completely seamless process. At present, very few international brands follow the concept of living/fair wages, which absolutely must increase.
And NGOs and trade unions must act fairly by creating real pressure and going the legal route may be an option for them. Their pressure worked earlier too and here is a perfect example. About 1,000 laid-off workers at a Thailand-based garment factory will receive $8.3 million, with the world-renowned lingerie brand buying for the factory helping to settle via a loan agreement with factory owners. In this massive success for workers, the role of an international workers' rights group was instrumental. Many of these workers who had worked in the factory for more than 10 years did not receive severance pay imposed by Thai law. Union and state governments have many welfare schemes for the weaker part of the society. There are policies in which governments pay part of the wages of workers in order to induce investors to invest in their states. When there is an incentive for new investment, why can't the government support the existing one?
The government can provide housing for migrant workers or support factory hostels and dormitories. This will help workers save money on their existing wages and factories will also be motivated to create such facilities for their workers. A few years ago, the apparel industry demanded that the NREGA program be incorporated into apparel manufacturing. But that couldn't happen. Nothing was missing from the industry proposal as the workers were supposed to find work, the industry would get enough labor and the government could save direct cash outflows under the program. With inflation touching the sky, industry needing more workers, and options for workers growing outside of the apparel industry, it's high time to think and work for workers.
(The author owns a clothing factory in a rural area, which mainly employs women)