Gig workers deprived of fair wages, benefits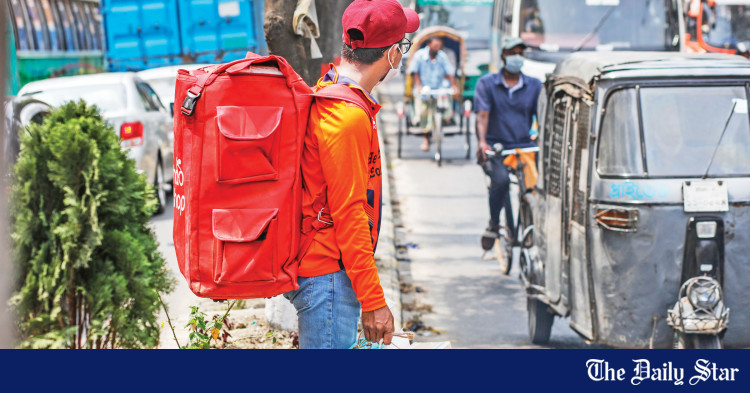 Find a study from Fairwork Bangladesh
According to experts, security measures, insurance policies and wage structures should be introduced for gig workers. Photo: star/file
">
According to experts, security measures, insurance policies and wage structures should be introduced for gig workers. Photo: star/file
According to a recent study, the majority of workers in the gig economy in Bangladesh do not receive a fair wage, benefits or even a contract from online platforms, which reveals the dire situation in ensuring human rights. these workers.
The paper, titled "Fairwork Bangladesh Ratings 2022: Labor Standards in the Platform Economy," also revealed that gig economy players have poor working conditions in the absence of adequate representation.
For all the latest news, follow the Daily Star's Google News channel.
The report was launched by Fairwork Bangladesh, a collaboration between Dhaka-based DataSense and the Oxford Internet Institute at the University of Oxford in England, at the Brac Center Inn in Dhaka yesterday.
The study interviewed 91 workers from 9 platforms: Uber, Foodpanda, Pathao, Sheba.xyz, HungryNaki, Obhai, HelloTask, Truck Lagbe and Chaldal.
Fairwork assesses the working conditions of digital platforms and ranks them according to their performance.
It is based on five principles – fair pay, fair terms, fair contracts, fair management and fair representation – that digital platforms should adopt in order to deliver fair work.
Each of the five Fairwork principles is broken down into two points and each platform receives a score out of 10. Platforms only receive a point when they can satisfactorily demonstrate their implementation of the principles.
Although the overall performance and scores of local online platforms are better than last year, none of them could get even 5 out of 10.
Chaldal, HelloTask and Sheba.xyz each scored three out of 10 points while Uber got two points and Foodpanda and Pathao got one each. Meanwhile, Obhai, HungryNaki and Truck Lagbe failed to score at all.
As Bangladesh does not have a national minimum or living wage policy, the platforms have no legal obligation to guarantee a wage floor. However, some workers on some platforms were found to earn wages higher than the equivalent of minimum or even living wage, according to the study.
It also found that workers are active for much of their unpaid hours, but are not paid for their time. Unpaid hours refer to time spent waiting for work, traveling in traffic, and delays due to customers.
Furthermore, no platform could share evidence that it offered a safety net for workers that would cover a loss of income and although many of them reported initiatives for an insurance program, the interviews with workers did not provide sufficient evidence of their effectiveness.
Many workers also reported that there was no paid sick leave policy in practice by their platform.
Platforms continue to classify workers as independent contractors and do not extend full employee benefits to gig workers. Additionally, neither platform shared details of the contract, so it could not be assessed for its fairness, according to the report.
According to the report, on-demand workers often face platform decisions that affect their work and lack the means to challenge those decisions. In addition, the dismissal of workers is sometimes done through an automated system without human consultation.
The platforms have human-centric call centers that are supposed to provide support to workers, but the efficiency and reliability of these were questioned by many interviewees.
The Dhaka Ride-Sharing Driver's Union (DRDU) is the most important collective of platform workers, not only for the ride-sharing industry, but for the entire national gig economy. However, only two of the 30 carpool workers interviewed were members of the DRDU.
The report revealed a new phenomenon this year: ridesharing workers are taking rides on "khaep," meaning passengers offer rides to customers without using the app as a medium.
Workers go "khaep" by finding customers directly on the street or using the platform to connect with them. They then cancel the trip before taking them to their preferred destination for a given sum.
"Security measures, insurance policies and wage structures should be introduced for workers in the gig economy," said Razekuzzaman Ratan, a member of the National Coordinating Committee for Labor Education.
Belal Ahmed, secretary general of DRDU, said he had worked for carpooling platforms as a driver for only five years, but physically felt it was 15 years.
"We have no identity, no future. I can barely earn Tk 12,000 per month but my family expenses are Tk 25,000," he added.
Inam Ahmed, Editor of The Business Standard, and Ananya Raihan, Chief Imaginator at DataSense, also spoke at the event.