Invista grants polymerization technology license to China Resources Yantai Nylon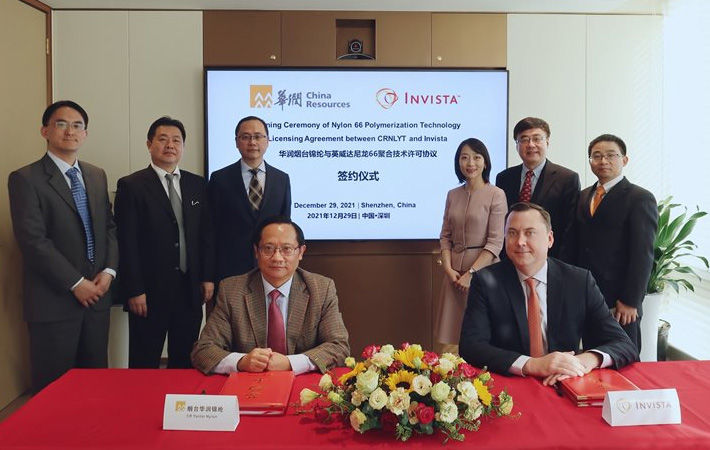 With Invista's cutting-edge expertise in nylon 6,6 technology and production process, this partnership continues to exemplify Invista's commitment to promote the development of the nylon 6,6 industry in China. , meeting growing local demand with improved capacity and premium downstream applications, Invista said in a press release.
Representatives from both companies, Kyle Redinger, President of Invista and Vice President of Invista Intermediates Asia Pacific; and Zhenda Zhu, chairman of China Resources Yantai Nylon Co., Ltd., attended the commemoration ceremony held recently, showing high expectations for the upcoming project.

Located in the Economic and Technological Development Zone of Yantai City, Shandong Province, China, the new line is the first to be licensed with Invista's nylon 6.6 polymerization technology since 2015 and will use Invista's patented nylon 6,6 salt process and Invista's advanced continuous process. polymerization technology, providing excellent safety and environmental performance, high reliability and service life, higher energy savings, lower operating costs and excellent product quality for the nylon industry 6,6.

"We are honored that China Resources Yantai Nylon Co., Ltd. has chosen to adopt Invista's leading nylon 6,6 polymerization technology for this new line. As with China Resources and all local partners, we look forward to working closely together to make this new project successful and to identify additional opportunities for downstream applications of nylon 6,6, enabling strong growth as we contribute to upgrading the nylon 6.6 industry in China, "said Pete Brown, Executive Vice President of Nylon Polymers, Global Intermediaries, Invista.