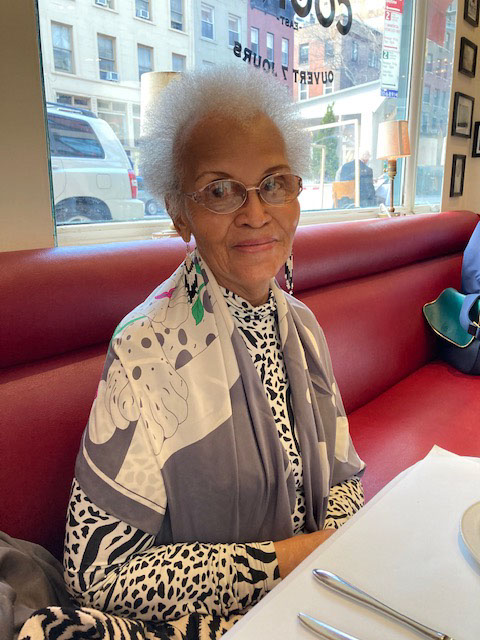 Go dancing to blues and jazz music on Wednesday and Friday evenings at Grant's Tomb, Saturday evenings at various locations and Sunday afternoons at 150th Street and Riverside Drive, listen to jazz and blues music 24/7 7 on WBGO 88.3, ​​going to senior centers and teaching painting, sewing and jewelry making, that might seem like a full plate, but that's the daily fare for June Terry, 89, who will have 90 years old this Saturday June 12.
Terry who lives in midtown Manhattan has done everything in his life. The FIT graduate and licensed practical nurse was also the first black woman to work at Manufacturers Hanover Trust Bank as a financial analyst, the first black female salesperson in 1957 in A&S department stores, factory worker and tailor. . Terry designed African clothes adorned with celebrities including Lillias White and Tony Award winner Lena Horne. She also made costumes for the HADLEY Players and Black Wall Street for many years. His clothes have also been shown in shows in St. Thomas. At 89, she still designs clothes.
She developed a love for African clothing while growing up in Washington, DC after seeing African women beautifully dressed in their dresses and headwear. She was immediately seduced by the elegance of their outfits. Seeing her first outfit, she sketched it out on a paper bag. In 1964, working as a nursing assistant, she befriended a Liberian woman who was a dietician at the hospital, she lent her an outfit and Terry copied the drawing. In 1965, she got some material from Sierra Leone and made another garment, then she continued to make them. Terry made daishikis and African outfits for men and women, for weddings and all occasions. She sold them to black and white communities. Terry was also a model, adorning her own beautiful designs, sporting a natural afro that included her spiked hair. A style that she still maintains today, having had her hair cut like this in 1968, after seeing a beautiful Ethiopian woman with the haircut.
1968 was also the year she opened her own store. To take things to the next level, Terry created his own fashion show called "Kings and Queens of Africa". "I had 40 models representing different African countries. We did shows from 1990 in New York until 2006, and we were part of the Gullah Festival in South Carolina for many years starting in 1992, "explained Terry. Encouraging his people to embrace the beauty of African clothing, Terry often created African outfits that students could wear to school for Black History Month. "At school for Black History Month, I dressed the little kids in their wrap skirts and daishikis and the parents were thrilled and asking to buy the outfits. I gave them to them. I am a donor. I like people. My African name is Serantun, it means love and sweetness. I love my people and the sweetness is in my clothes, "said Terry. Terry is known to some as being in the 1960 edition of Ebony magazine, where she appeared in a hair commercial, sporting her afro.
Terry was one of six children of Anna Turner and Avery Terry. Although her parents were born in Virginia, they moved to Washington DC to raise their six children. Anna was a maid, while Avery was a tailor and taught June art, though she remembers he only had a 4th grade education and learned everything on his own. . Anna and Avery's children were Geraldine, Albert, Lenard, Avery, June and Zina. June and Zina are the other children.
At 89, Terry has a very rigorous routine: "I wake up at 11:00 am, I have my breakfast – oatmeal and raisins. I eat green vegetables and salads, I do sports classes on Zoom. I haven't eaten meat since 1974. Then I go up to Grand Concourse and be with the seniors, I teach jewelry making and clothing design, I take my actress friends on stage – singing, stages, j 've made 15 paintings and I teach painting, "she said. She also enjoys walking to Lincoln Center and seeing their outdoor concerts.
Travel is something she loves too as she's been to France, Africa, Italy, Japan, Spain and St. Thomas, to name a few. Dancing four days a week on Wednesday and Friday through Sunday is something Terry continues to enjoy. "I've had a pacemaker for seven years and it's not slowing me down," she exclaimed.
Terry is the very proud mother of six children – identical twins Yvonne and Yvette, Gerald Durant, Frances Maria, Royecca and Kito. She also has six grandchildren and five great grandchildren. Considering the life lessons she wants them to learn, she shared, "Always stay positive, love yourself, don't follow fading, dress as you like. Try to wear natural hair, read good grow books, travel if you can. Be the best you can be in life. Try to achieve your goal of understanding others. Always keep the faith. "
The secret to a long life according to Terry is: "Stay positive, have faith. Spread love among those in need. Recognize your culture. Find a job that will help pay for your education. In the past, in the south, one person went to university and then the next. This is something that should still happen. We should always shoot each other.
Speaking about his life and his family, Terry shared, "My life has been busy. I have been blessed by God to spread love and the arts. My daughters will dance with me and I can also hang out with young children. When I dance I can bop, make the chicken and walk the dog. I wake up in the morning, look at myself in the mirror and say, 'Hey, you're still here!' "
On Saturday June 12, four generations of the family will come together to celebrate Terry's 90th birthday. Terry proclaimed, "We have always been a happy, dancing and fashionable family. We all go to everything together. She shared that she hopes to live to be 100 years old. Hope her dream will come true and happy birthday!