New Business Deals: HMP Global, Levy, CompuSystems & More Forge New Business Agreements, Extend Partnerships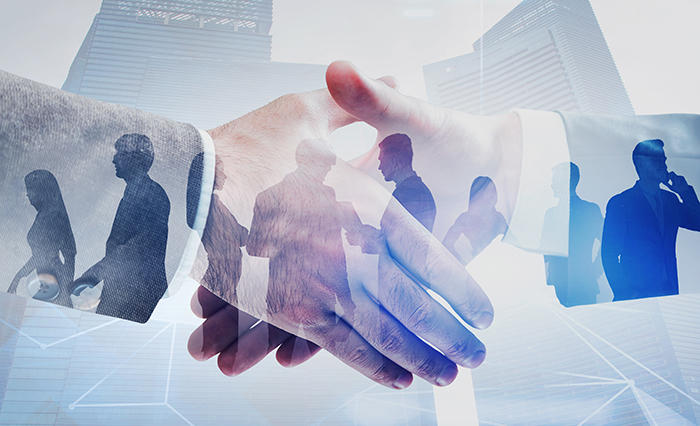 New Business Deals: HMP Global, Levy, CompuSystems & More Forge New Business Agreements, Extend Partnerships

As the trade show industry continues to focus on the recovery, event organizations are once again making acquisitions, establishing new partnerships and extending existing agreements for a solid return to face-to-face events. Here is just a sample of some of the new business transactions that have taken place in the industry since the start of the summer.
HMP Global acquires Executive Senior Living Conference & Expo
Global HMP, the world's largest healthcare education and events company, has acquired the Conference and exhibition for senior executives of Argentum, a leading national association that supports businesses that operate professionally managed, resident-focused seniors' residences, and which represents about 75 percent of the industry.
Recognized as the industry's premier networking and education event, nearly 3,000 executives from 750 companies representing for-profit and non-profit assisted living, memory care, independent living, communities Retirement Providers (CPAB), Real Estate Investment Trusts (REITs), private equity, capital providers, industry providers, media and academia attend the annual gathering.
The two organizations also announced a multi-year partnership to guide the strategic direction and program development of the meeting. The event, which recently took place September 13-15 at the Phoenix Convention Center, will remain Argentum's official reunion.
Levy partners with Metro
Sampling has been chosen to serve as the new exclusive catering and hospitality partner for Metro Visitor sites in Portland, Oregon. Levy will work with Metro to create and oversee all aspects of food and beverage at Oregon Convention Center, Portland Exhibition Center, Portland'5 Centers for the Arts places and Oregon Zoo, including on-site restaurants, cafes and concessions, catering for private and social events, and food and beverage service before the event and intermission during performances.
Through this collaboration, the duo will aim to bring guests the best of Portland represented by local chefs, cuisine featuring diverse cultures, local ingredients and sustainable produce from neighboring farms. Metro and Levy officials are committed to creating business opportunities across the region by partnering with local small businesses and working closely with community groups to provide the best hospitality experience for customers.
Levy serves as a hotel partner for various locations in the Pacific Northwest, including the Moda Center, Providence Park, Lumen Field and Woodland Park Zoo, as well as leading US convention facilities including the Javits Center in New York, the Georgia World Congress Center in Atlanta and the Los Angeles Convention Center.
CompuSystems extends contracts with SEMA, ACA and MEMA
Full Service Enrollment Provider CompuSystems signed multi-year renewal agreements with the Specialized Equipment Market Association (SEMA), on Automobile maintenance association (ACA) and the Association of Engine and Equipment Manufacturers(MEMA).
CompuSystems will provide lead recording, data analysis and retrieval for The SEMA show and ACA / MEMA Automotive Aftermarket Products Fair (AAPEX), which together form one of the largest trade show gatherings in the United States for auto enthusiasts and the auto service industry, respectively. The next SEMA show is scheduled to take place November 2-5 at the Las Vegas Convention Center, with AAPEX scheduled for November 2-4 at the Venetian Expo and CAESARS FORUM.
"The announcement of customer renewals is very important to us as it demonstrates our commitment to our partnerships," said Mark LoGiurato, COO of CompuSystems. "We are pleased to extend these long-standing relationships by continuing to provide our first-class service and professionalism, as we do for all of our clients. "
Edlen partners with GWCCA
Edlen Electrical Exhibition Services, the largest independent electrical contractor in the trade fair, convention and special events industry in the United States, has formed an exclusive utility partnership with the Georgia World Congress Center Authority to be its exclusive supplier of utilities, including electricity, plumbing, compressed air and cable.
Edlen deputy general manager Shawna Moore, who served as deputy general manager of Edlen's office in Mandalay Bay and served some of the nation's largest trade shows, moved to Atlanta to help with the transition and lead the team.
"Edlen is honored to partner with our friends at the Georgia World Congress Center Authority," said Jim Wetterling, President and CEO of Edlen. "We look forward to a long and mutually fruitful relationship."
Founded in 1975, Edlen is a national Las Vegas-based company that hosts over 5,000 events per year and provides exclusive, preferred or recommended services at over 200 convention centers across the country.
Massachusetts Dental Society renews contract with CDS
Massachusetts Dental Society (MDS) has renewed its partnership of more than 15 years with Congress data services (CDS) for two years until 2023. CDS will provide registration, lead management, CE investigation and certificate request and data analysis for Yankee Dental Congress, New England's largest dental convention and the country's fourth largest attracting over 25,000 dental professionals from the United States
According to David Lawton, CDS Sales Director, CDS teams will continue to provide innovative and flexible check-in solutions to enhance the on-site experience at the Yankee Dental Congress, which will take place Jan. 27-29 at the Boston Convention and Exhibition. Center.
"The past year has been particularly difficult, but whatever obstacles we have encountered, CDS has worked tirelessly with us to find a solution," said Alisa Ufland, Marketing Director of MDS. "I want all of our partners to be so accommodating and easy to work with. I look forward to the continuation of our partnership.
Do you have a new business ad to share? Approach [email protected].
Don't miss any event news: subscribe to our weekly e-newsletter HERE and engage with us on Twitter, Facebook, LinkedIn and Instagram!