Nine million Covid-19 masks will be distributed to staff at Cambodian garment factory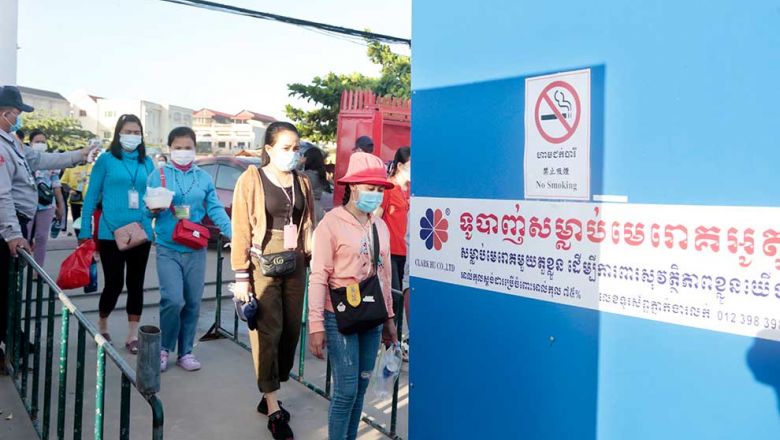 February 8, 2022
PHNOM PENH – The Garment Manufacturers Association of Cambodia (GMAC) has announced that member factories can contact it to receive free masks from February 16 to March 31, after receiving more than nine million masks from Fast Retailing, the parent company of the Uniqlo brand in Japan.
"These masks represent the continued efforts of GMAC and Uniqlo to help our industry deal with Covid-19. We will distribute nine masks to each worker. Please arrange to collect the masks from our office and help distribute them to your workers," he added.
GMAC Deputy General Secretary Kaing Monika told The Post on Feb. 6 that the association would distribute the masks to all factories and workers, as well as other institutions that contacted it within the time frame.
"Distributing the masks to workers is a valuable contribution by Fast Retailing to the government and to our industry and will help in the prevention of Covid-19," he said.
GMAC staffer Kong Chanmarady said that within two days of GMAC's announcement, more than 20 factories had requested masks to distribute to workers.
She said factories would provide masks for tens of thousands of their workers.
"The masks will arrive soon and we will let them know in advance when they can pick them up," she added.
Pav Sina, president of the Workers' Movement Collective Union, praised GMAC's efforts to seek donor support to obtain these masks for free distribution to Cambodian workers.
Additionally, he expected GMAC to continue its efforts to seek support from partners or other donors to provide other equipment – ​​such as disinfectants and temperature sensors – to prevent the spread of Covid-19. in the factories.
Indeed, he had noticed that some factories did not seem to follow all the recommended sanitary measures, some not being regularly disinfected.
"While Covid-19 cases are declining and we are making remarkable progress against the Omicron variant, GMAC should continue to reach out to donors to ensure that protective equipment is added to all member factories. This will significantly reduce the chances of the virus spreading," he said.