"The EU remains in constant dialogue with Bangladesh on human rights"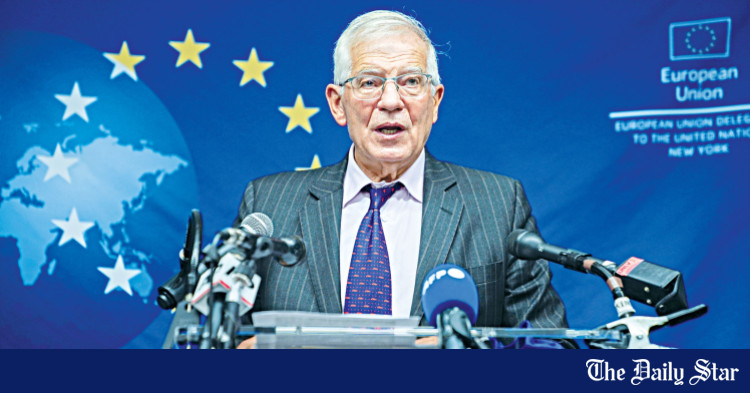 The High Representative of the European Commission, Josep Borrell Fontelles, insisted on a constant dialogue with Bangladesh on human rights, in response to a call by a member of the European Parliament to impose sanctions against the battalion of 'fast action.
"Rest assured that the EU maintains a constant dialogue with the Bangladeshi authorities on all of our relations, including our human rights agenda. The upcoming EU-Bangladesh Joint Commission and Sub-Group on good governance and human rights are remarkable places to continue these discussions," Josep Borrell wrote in a response to MEP Ivan Štefanec.
For all the latest news, follow the Daily Star's Google News channel.
In a letter to Joseph Borrell on January 20 this year, MEP Ivan Stefanec called on the European Union to impose sanctions against the Rapid Action Battalion, saying it was involved in numerous extrajudicial killings. and disappearances.
He had said that the situation of human rights, freedom of expression, civil and political rights in Bangladesh was deteriorating. He also cited US sanctions against Rab and seven of his current and former officials imposed on December 10 last year.
In response, Josep Borrell Fontelles wrote a letter to Ivan Stefanec on March 18.
He said that as one of the most densely populated, disaster-prone and climate-change-affected countries in the world, Bangladesh has been very successful in reducing poverty and increasing access. in primary education in recent decades.
The EU values ​​its longstanding partnership with Bangladesh on several fronts, including trade, development cooperation, migration, climate action and regional security, he wrote. The Daily Star obtained a copy of the letter.
"We especially appreciate Bangladesh's contribution to regional security and stability by hosting around 1 million Rohingya refugees who fled Myanmar."
Joseph Borrell said that despite this remarkable socio-economic development, the human rights situation in the country continues to raise concerns, including the shrinking space for civil and political rights.
He has written to local and international observers, including the UN Committee against Torture (CAT) and the Office of the UN High Commissioner for Human Rights (OHCHR), continuing to raise concerns about allegations widespread use of torture and ill-treatment by security forces.
Extrajudicial executions and enforced disappearances remain a major concern and require thorough and conclusive investigations and full accountability of those responsible, Borrell said.
Additionally, he said the Digital Security Act (DSA) imposes undue restrictions on freedom of expression in the digital space, and "we welcome signals from the government that the DSA will be aligned with international standards. ".