The trip back to Dhaka turns bitter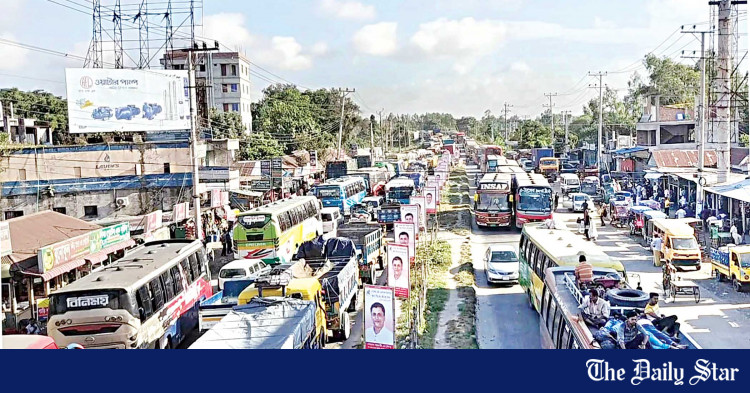 Thousands of people suffered hours of traffic jams on the link road from Bangabandhu Bridge to Tangail for the fourth consecutive day yesterday.
In addition, two accidents in Mirzapur created a traffic jam on the Dhaka-Tangail highway which lasted almost the whole day.
For all the latest news, follow the Daily Star's Google News channel.
On the Bangabandhu Bridge Link Road, the traffic jams that started on Friday morning were not cleared even at night.
Textile worker Bilkis Akter, who was returning to work in Dhaka with her son, said her child suffered badly in the heat without food or water as her bus was stuck in Elenga, Tangail, for hours.
Traffic police said there were too many vehicles on the road as people returned to Dhaka from northern districts after the Eid holiday. In addition, accidents and broken down vehicles on the road have created major bottlenecks on the narrow link road.
When contacted, Bangabandhu Bridge Traffic Control Room officials said the traffic was so heavy that even diverting some of the Dhaka-bound vehicles to the Bhuapur link road could not ease the congestion between the east side of the bridge and Elenga, Tangail.
Ataur Rahman, head of the Elenga highway police outpost, said: "Motorists entering the two-lane link road from the Dhaka-Tangail four-lane highway face major bottlenecks.
He added that the narrow section of the road was a major cause of traffic jams.
On the Dhaka-Tangail highway in the Dulla Mansur area of ​​Mirzapur, a major accident involving a bus and a truck at around 4.30am blocked the road until 7.15am when the vehicles were towed away.
But the traffic jams have reached kilometers in the meantime.
Before traffic returned to normal, a woman and two children were run over by a bus around 11:45 a.m. near the Pakulla bus station, a few kilometers from the Dulla Mansur area.
Residents blocked the road soon after and vehicles were unable to start moving until 2 p.m., police said.
Traffic jams on the highway persisted into the evening.