Veteran union leader Haribhau Naik is no longer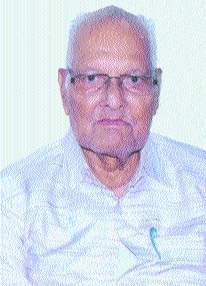 Staff reporter:
Haribhau Naik, a veteran trade union leader and former Minister of State for Labour, breathed his last at his residence in Dhantoli here at 1am on Saturday. He was 94 years old. Naik is survived by his wife Vimal, his sons Sanjay and Raju, his daughters Mangala Chedge and Nanda Pargunde, and a large family. Devendra Fadnavis, Leader of the Opposition in the Legislature and former Chief Minister, expressed her condolences on Naik's passing. "In the disappearance of Haribhau Naik, we have lost a leader committed to the cause of the labor movement. In politics too, he was attached to values. I pay my respects to him," Fadnavis said. Naik's remains were set on fire in Mokshadham on Saturday. SQ Zama, union leader and former MLC, chaired the condolence meeting.
Dnyaneshwar Rakshak, Ashok Dhawad, Praful Gudadhe, Arun Kapse and others were prominently present. Haribhau J Naik was born on July 1, 1928 at Pipla village (Narayanwar) in Madhya Pradesh. He did his B.Com. from Nagpur University and was fluent in Marathi, Hindi and English. During his school and university years, he worked in the Sewa Dal Congress. In 1955, he joined the textile trade union movement. He was chairman of Rashtriya Mill Mazdoor Sangh in Nagpur and Mumbai. He rose to become a labor leader of very high stature. He also had a political stint and became Mayor of Nagpur in 1971. He was elected MLC of Nagpur District Local Bodies Constituency in 1978. In 1981-82 he was Minister of State for Labour, Finance and Legislative Affairs. Given his trade union reputation, Naik had the opportunity to attend the International Labor Conference in Geneva as a workers' adviser in 1970. Between 1993 and 1995, he was elected as a worker member on the Council of administration of the International Labor Organization.
He has been associated with various organizations in different capacities, including Vice President of the Asian Regional Textile Organization, Vice President of the International Textile Federation, Garment Leather Workers Federation, General Secretary of the Indian National Federation of Labour, General Secretary and Vice President of INTUC Maharashtra. Branch, Secretary and Treasurer of Indian National Trade Union Congress, Chairman of Maharashtra Labor Welfare Board. He was the founding president of the Textile Workers Federation of Maharashtra Mofussil and a member of the management committee of Sarvoday Ashram, Nagpur. Vasantrao Naik Pratishthan presented Naik with the best union worker award in 1993. He was honored by the Federation of Sugar Mill Workers in Maharshtra, Pune; and Vasantrao Naik Smruti Pratishthan, Nagpur.