When a chic new Preston sign will be unveiled in the city's flag market.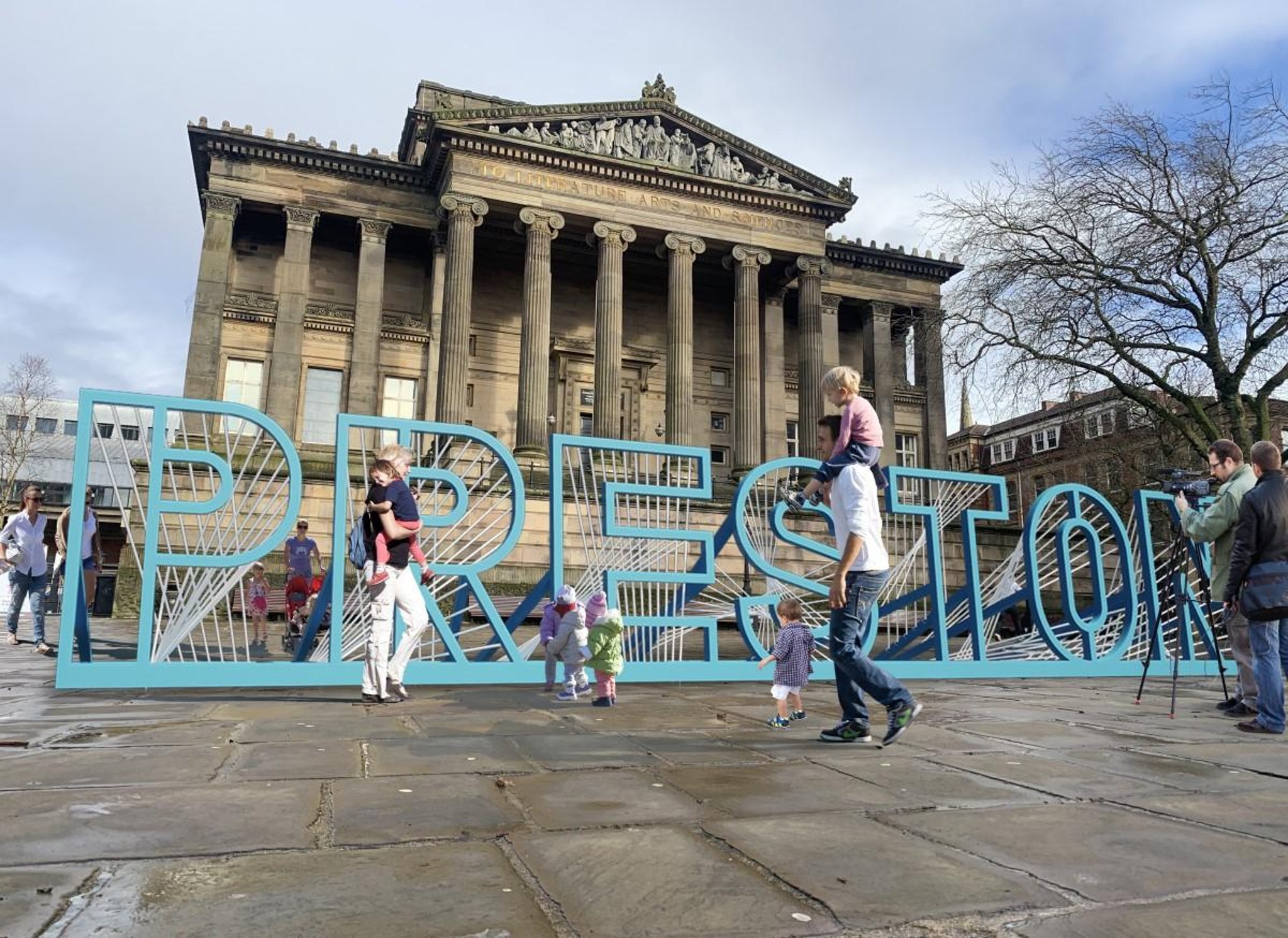 The steel panel is clad in blue with a rope woven through it to symbolize the rich history of the cotton and textile industry in Preston.
It will be located in the Flag Market for a month, then travel to multiple locations around town before being moved to its final destination yet to be determined.
Preston Mayor Councilor Javed Iqbal said: "The Preston sign is fantastic, and I can't wait to see it outside Harris on the Flag Market. Unique creations like this encourage even more visitors to the city center to explore all the amazing things Preston has to offer.
The new Preston sign at the workshop
The successful partnership between Preston City Council, David Cox Architects and Steeleson Fabrications has brought this distinctive idea to life and is a work of art that Preston will be proud of for many years to come.
Helen Knott, Architect of David Cox Architects, said: "It has been a privilege to work alongside Preston City Council and Steeleson Fabrications on this very unique project. The design concept was influenced by Preston's textile heritage and the chunky yarns represent the cotton weaving process. .
"Acquiring a piece of public art for all to enjoy signals growing confidence in our city and the delivery was a true team effort on a tight schedule. We very much hope that this will become a fun photo opportunity for locals and visitors."
Commissioned as part of the city's Welcome Back Fund Action Plan, the Preston sign was funded by the European Regional Development Fund (ERDF) through the Department for Communities and Local Government.
Lancashire company Steeleson Fabrications were selected to manufacture the sign at their workshop in Kirkham.
Installation will start from Tuesday 29th March and when a final destination is decided, planning permission will be applied for if required.
Created by the European Union, ERDF funds help local territories boost their economic development by investing in projects that will support innovation, businesses, job creation and the regeneration of local communities.
Read more
Read more
How a Preston woman's life fell apart after discovering her husband's death…